When a parent or other loved one needs more care to live comfortably and safely, it can be overwhelming to consider all of the options available. Two care options you've likely heard a lot about are nursing homes and assisted living.
They're each designed for individuals with quite different needs. In short, a nursing home is often the right facility for someone who needs sophisticated, round-the-clock nursing care for debilitating physical or cognitive disabilities.
Assisted living, on the other hand, is independent living for seniors who need some help with things like daily personal tasks and getting around their home, and who may not be able to deal with household chores. Specialized memory care can also be part of assisted living for individuals who are experiencing some cognitive decline.
Read on for even more information about the vast difference in the level of care provided between these two types of facilities.
All About Assisted Living
If your loved one needs extra support to get through their day comfortably and safely, but doesn't have serious health concerns or disabilities, an assisted living community like ours might be just the right combination of help and independence.
Who is Assisted Living for?
Assisted living might be right for an older adult who:
Has some mobility concerns that make it hard to get to the restroom at night, get into or out of bed, keep up with hygiene, or move around their home safely
Has trouble getting groceries or cooking meals
Feels tired easily when trying to keep up with housekeeping and home maintenance or who has stopped keeping the tidy home they used to take pride in
Can no longer safely drive to appointments or do errands alone
Has begun to forget to take medication, miss appointments, or seem confused
Enjoys a social, independent life and is feeling isolated at home recently
Isn't able to have all of their needs fulfilled by a primary caregiver, friend, or family member
While assisted living is often a long-term housing option, it can also be a short-term fix for someone who needs help for a few weeks or months following an illness or injury while they fully recover.
What does an Assisted Living Facility Provide?
Unlike nursing homes, assisted living communities aren't federally regulated, so you'll see some variation in the services and amenities offered at each, especially from state to state.
In most communities, residents have their own private, maintenance-free apartment. Some assisted living communities, including ours, also offer memory care, which includes apartments, programming, and care designed to support individuals living with dementia or other symptoms of cognitive decline.
All assisted living facilities are required to provide the following:
Round-the-clock staffing (though this isn't necessarily medical staff)
Help with the activities of daily living
Nutritious meals
Social and recreational programming
Housekeeping and laundry
Medication management and other health-related services
Transportation, such as to community events and medical appointments
Social services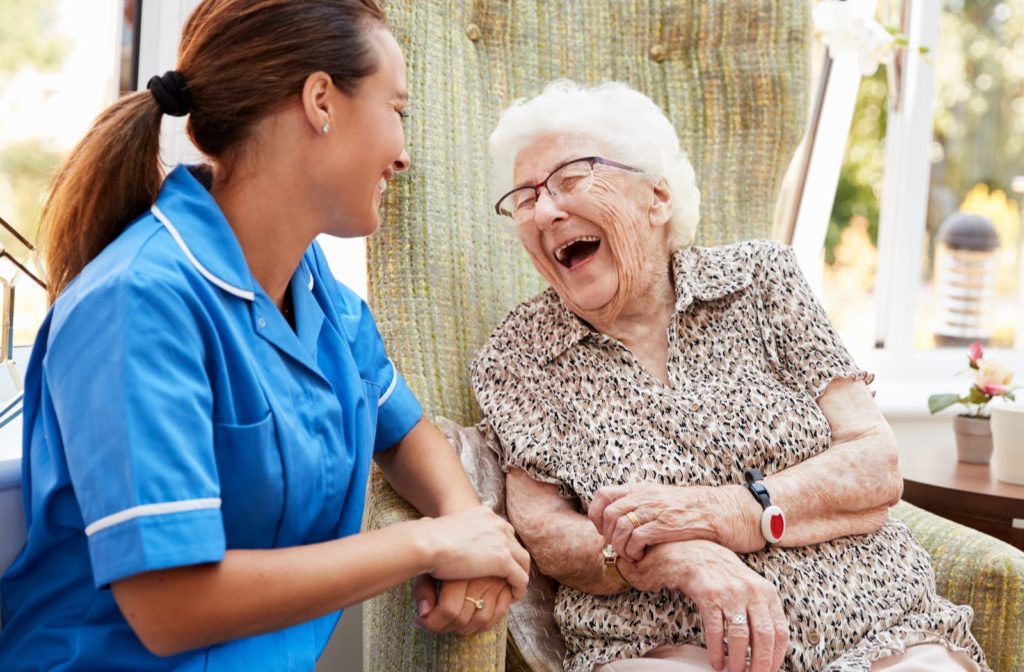 All About Nursing Homes
A nursing home, also called a skilled nursing facility, is the highest level of care available outside of a hospital. Nurses are on-staff 24/7, and physicians and other therapists are regularly onsite.
Who is a Nursing Home for?
The typical nursing home resident is older, with more than half of residents over 85 years old, and very few under 65 according to Health in Aging. Residents typically have sophisticated medical needs that require high-quality, specialized care that wouldn't be possible in an assisted living environment.
What Medical Care does a Nursing Home Provide?
A nursing home can provide personalized medical care for a person who:
Would benefit from regular onsite medical procedures such as breathing treatments, intravenous therapy, catheter care, injections, or wound care
Requires care for severe cognitive impairment
Needs orthopedic care for bone, joint, or muscle problems
Requires physical, occupational, or speech therapy
Needs help with multiple activities of daily living, such as walking, bathing, getting dressed, and using the washroom
Experiences any type of incontinence
Is visually impaired or has difficulty hearing
The length of stay in a nursing home can vary widely. About a quarter of residents stay for three months or less, about half stay for a year or less, and approximately one in five residents lives there for five or more years.
For shorter stay residents, they may be in the nursing home for temporary rehabilitation following illness or injury until they can regain their level of activity to return to their normal life. Or a resident may live in a nursing home to receive skilled and compassionate end-of-life care.
What Kind of Lifestyle does a Nursing Home Provide?
In addition to caring for residents' medical needs, a nursing home supports good quality of life through wellness programming, stimulating activities, and social opportunities.
Residents may live in private or semi-private apartments and are provided nutrition meals that suit their dietary needs.
Nursing homes will typically encourage their residents' family members to come visit, socialize, and help with some activities of daily living, all of which are important parts of maintaining a high quality of life.
Feeling Confident in Your Next Steps
While there are stark differences in the services provided in assisted living and nursing homes, you may still wonder about your loved one's long-term ability to age in place, especially if their needs and abilities have recently changed. We'd be happy to answer your specific questions about assisted living, or provide you a guided tour of All American Assisted Living at Londonderry. Please contact us for more information.